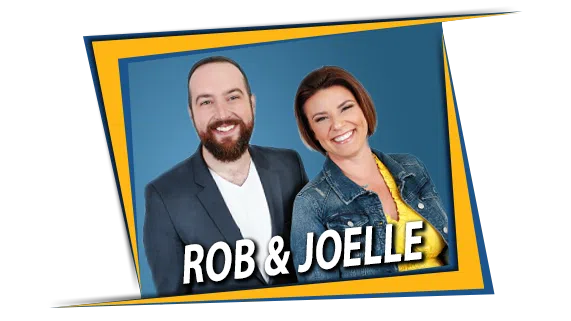 Rob
So, here's a bit about me. Where did my radio career begin? Well, I applied to the BRIT School for Preforming Arts & Technology; the same school Adele graduated from in 2009. I was never accepted, but good for Adele I guess. That rejection lead me to apply to radio school & I also graduated in 2009. What up now, Adele?
My last name is Grant, but please don't make Hugh Grant jokes around me. I don't know him. We're not related. My dad wants to fight him because he's just an all-around terrible actor. Also, since I have an English accent, for whatever reason, it triggers some people to immediately start talking about David Beckham and how hot he is. Yes, he's a good looking man, but truth is if his football skills were as good as his looks England might have won a World Cup by now.
Come at me Posh Spice.
Here are some other quick notes before this gets too long: I hate English stereotypes. I want to replace Steve Harvey as the host of Family Feud. Joelle's cooking causes severe heartburn. Avoid it. I want to win the WWE Title. I will out Karaoke you. I will out dance you. Its tea time.
Joelle
Ok, so, you & I both know bios are the worst, so please bear with me. I'm from Calgary. Strathmore to be exact & I have returned to God's country. I have 4 kids. Well I actually had 5. One went missing in Target during their closeout sale. I'll admit I got distracted by the deal, I like 4 better anyway because I prefer even numbers. You'll never believe how I got into radio, but this is the truth. I won a contest to co-host for an hour. It was terrifying, but also such a rush. I wrote a blog about my experience & got a call back. I thought I was being trolled for a Punk'd style video, but they hired me & now I'm here in Calgary doing afternoons.
Let's see what else…OH, I once thought I was Facebook friends with an NHL player, but found out it was a 12-year-old boy instead. Moving on, a glass or 2 of wine and the song Pony are deadly combination for me. I was the National Hopscotch Champion from 93-95 and I caught Usher's lip balm during his concert. We were lovers and friends.
And lastly, everything Rob said in his bio is a lie. Even his accent is fake. He's actually from Drumheller.
Cheers