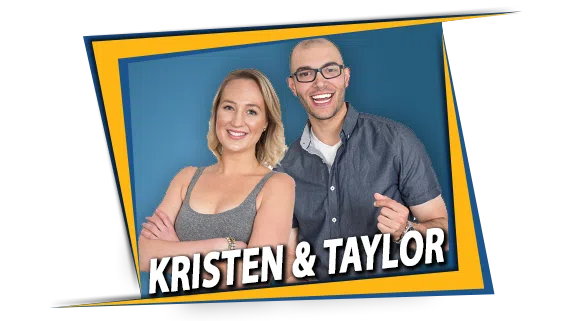 Kristen
Born in Regina Saskatchewan, but grew up on the West Coast in the beautiful city of Vancouver. I love being active, going for hikes, kayaking, golfing.. anything to get outside is my jam. If I'm not outside, there is a good chance I'm eating…no, but seriously. I love trying new restaurants, and even more, I love cooking.  Ever talk to no one and pretend you're on a cooking show? Yea, me neither.
And if all else fails, and I'm too lazy to cook or go outside, there is a real high possibility you'll find me at a concert. There is nothing that fuels my soul more than live music… well, live music and puppies, but that's a given.
Taylor
Meet Taylor. The Newlywed of the station – he's "that guy" that posts pictures at the gym, of his Bernese Mountain Dog Maple, his cat Linc, and his wife Bryanne… BUT WE PROMISE, he doesn't do it in an annoying way! He's very open about his love for shows that have been on TV for WAY TOO LONG, he can sit still and watch baseball all day, has an obsession with quoting movies that he has and hasn't seen, a weakness for bad puns, and even worse dad jokes… You can connect with Kristen and Taylor between 10am and 3pm!
Favorite Board Game: Monopoly
Favorite Sport: Baseball (Dodgers & Blue Jays!)
Favorite Music: One Republic
Go To Karaoke Song: Thong Song – Sisqo
What's Your Motto: "You gotta wanna!" – Jim Pattison